Q&A: Christian Pilosi, Eden – A Vegan Cafe
April 9, 2011No Comments
BY: MICHAEL LELLO, 4/7/2011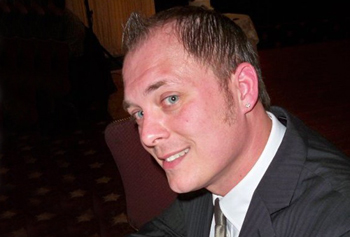 Naturally, when Christian Pilosi was hunting deer, he never considered that one day he'd dedicate much of his life to saving animals.
Born and raised in Old Forge, Pilosi pursued a career in insurance after graduating from Wilkes University. But with a vivid memory of a deer hunting moment still burned into his consciousness when he came across some PETA materials while working as a bookkeeper at an animal shelter, he decided to stop eating meat. And now, for more than two years, Pilosi has been operating Eden – A Vegan Cafe, Scranton's first and only vegan restaurant.
Pilosi, who runs Eden with his girlfriend Maura Cummings, is positioned in the thriving 300 block of Adams Avenue in downtown Scranton, which boasts a stretch of relatively unique businesses that tend to cater to forward-thinking patrons, such as an eco-friendly vintage clothing store, a vegan and fair-trade boutique and candle and soap maker and an independently owned record store.
Keystone Edge (KE): How did your upbringing set the stage for your eventual vegan lifestyle and entrepreneurship?
Christian Pilosi (CP):  I was born and raised in Old Forge. I was raised into a meat-and-potatoes family. It's kind of strange, because my upbringing earlier didn't really bring me to where I am now. I grew up in a family of hunters. I was a deer hunter. I went for years, I didn't think about it.
Right before I became a vegetarian, I had an experience with deer hunting that probably started me on this path. I was in a tree stand, and I shot a doe. It lay there, then a fawn came out to the clearing and was walking around its dead mother for a while. I felt terrible about that. I never went again. Maybe — who knows? — maybe it planted a bit of a seed of this animal thing.
KE: Were there any other influential moments that helped convince you to stop eating meat?
CP: When I was in college I took a meaningless bookkeeping job at an animal shelter, and going through the filing cabinets I saw some PETA magazines, which I had never seen before. I didn't know anything about it; I used to eat Burger King for lunch. And I saw something about fur, a dead pile of foxes skinned, and I thought to myself, That's really strange. So I started looking more into it and I said, "I got to be vegetarian." That was in '97.
KE: What were your early days as a vegan chef like?
CP: I didn't know what I was doing. I got a white block of tofu, cut up some cubes, put it in a salad and was like, "This sucks." But all through high school and college I liked to cook. My part-time summer jobs were always cooking. Then I got into insurance, I worked at an insurance agency, I did some marketing work for them, then I got licensed and supervised the call center for a while. I graduated from college, stayed with the insurance, but I always had something in the back of mind that I wanted to something related to being vegetarian. I used to think it was going to be a natural food store.
Around 2007 is when I left my job in insurance, and I took a few months to look around downtown. Basically I knew I was going to do this, and I knew I wanted it to be downtown: the colleges, the walkup, just the environment. I was walking around downtown, and I thought to myself, I'm from this area, but I never really walked around downtown. Looking at the different stores and everything, there's stuff going on here, I thought. So I couldn't have been luckier than to fall into this spot.
KE: What changes have you made since you opened?
CP: We started slow. Our hours were 11 a.m. to 4:30 p.m., and we were opened until 7 p.m. only on Saturday. One and a half years ago we tested staying open on Wednesdays until 8 p.m., and we're still doing it. Then we stayed open until 8 every other Saturday. As far as the menu, we started with 12 items and added specials. We're now at 50 or 60 items. We added pizza.
KE: A vegan restaurant is certainly a unique concept in Northeastern Pennsylvania — Eden is the only one. How has it been received?
CP: More than one-half of our business isn't vegan or vegetarian (customers) at all. I wanted to make comfort foods and make them vegan. We're making chili cheese fries, and they're healthy. As far as expanding the hours, we're looking at doing something soon. The plan, tentatively, is in mid-April to open Tuesday to Saturday from 11 a.m. to 8 p.m., when it's light out longer; we have outdoor seating.
KE: How have used the Internet to market Eden?
CP: On our Facebook page, we keep it current with pictures of food, to the degree where people come in and say, "I don't know what that was, but that picture you posted an hour ago, I want that."
(This interview was edited and condensed.)
---
Originally Posted On: Keystone Edge